CNC Manufacturing
Rapid precision machining of wood, plastic and composite components.
D.B.Webb, Inc
Western NY Manufacturing
Our family-owned business manufactures primarily machined wood and composite parts, shipping throughout the US and overseas.
Our Manufacturing Capabilities
Established Manufacturing Facility
Our family business was started in an old barn in western New York in 1988. Dean Webb and his father, Harry, started out producing custom cabinetry and furniture. In the mid 1990's, Dean's brother, Paul, joined the business as it transitioned into precision component manufacturing. As the business grew, we expanded our facility to our current 20,000 sq ft of manufacturing space.
We have incorporated new CNC equipment, geothermal heating and cooling, waste heat recovery and other energy conservation systems.
Our mission is to provide our customers quality components in a timely manner. Our strengths are rapid response and flexibility. We can provide engineering, scanning, and product development services and can accept customer drawings in almost any format.
D. B. Webb, Inc. is also the sole distributor for WebbWood™ in North America.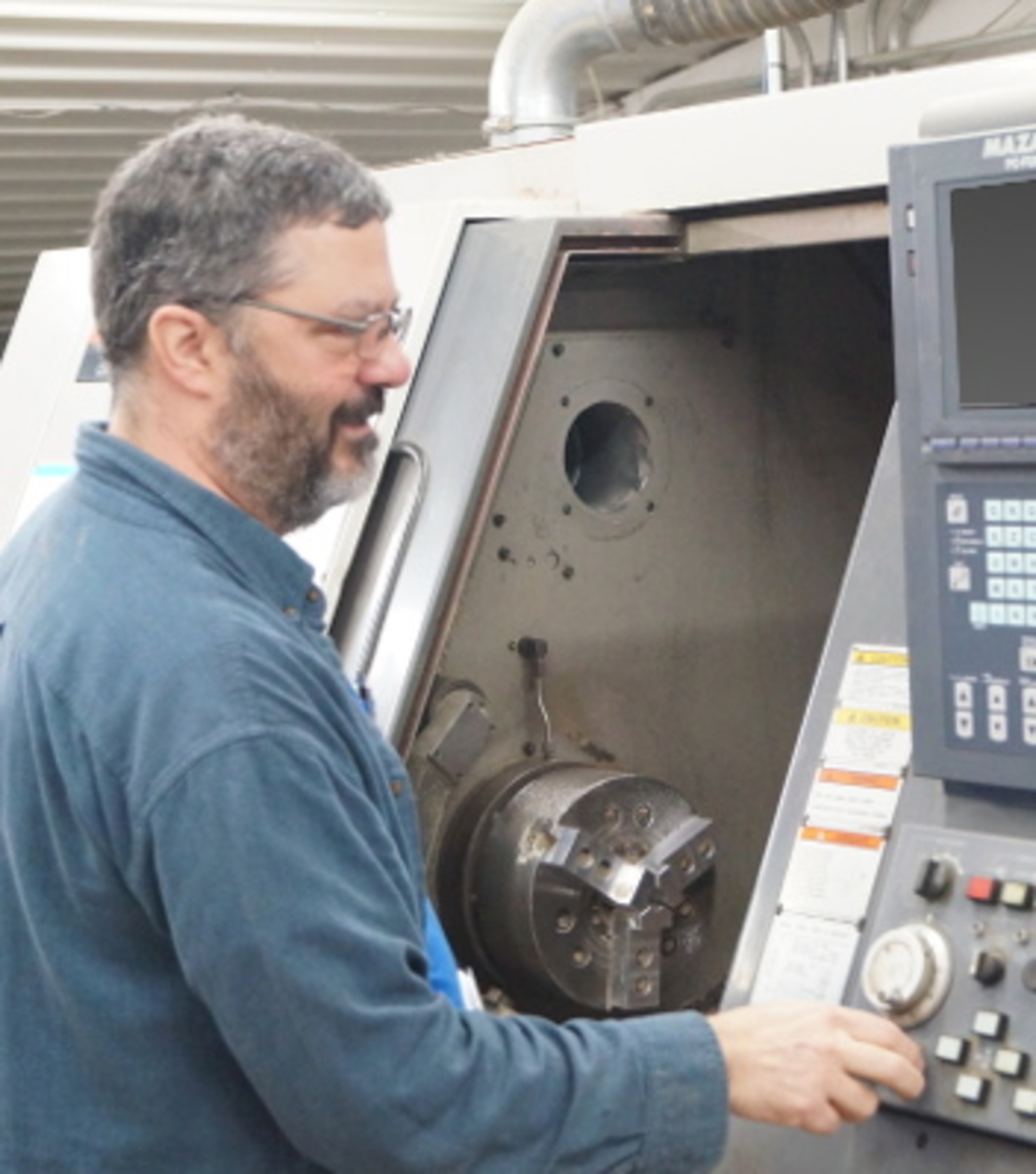 In-house Equipment
Some of our equipment includes:
Mazak 410B CNC Vertical machining center

Used for metal, G10, and other composites.

Mazak SQT-10MS CNC Lathe

with sub spindle and live tooling.

Mazak SQT-18MS CNC Lathe

with sub spindle and live tooling.

Mazak SQT-200MS CNC Lathe

with Y axis and live tooling.

Mazak SQT-250MS CNC Lathe

with Y axis and live tooling.

Thermwood Model 82 CNC Router

Dual spindle, dual table CNC with over a 10' x 14' work envelope. Completely rebuilt in 2014.

Thermwood Model 40 CNC Routers

5' x 8', 5' x 10' and 5' x 12' working envelopes. Up to 5 axis with aggregate tooling including rotary axis. These routers produce knife handles, bow grips, pistol grips, turkey calls, furniture parts, and many other components.

Thermwood Model 40 CNC Carver

Six spindles, 3 axis plus rotary producing Queen Ann Legs and similar furniture components.

Centraro CNC Wood Lathe

Used for round, spiral, or fluted parts, including table legs, pool cues, canes, batons, etc.

SCMI 5 Spindle Molder

Used to make moldings and material preparation.

SCMI Sliding Table Saw

Used for preparing materials for shipping or later processing.

Epilog 60W CO2 Laser

Used for engraving, checkering, and cutting components.
Manufacturing
Full featured custom contract CNC shop specializing in wood and composite materials. From prototype to volume production.
WebbWood™
D.B.Webb, Inc. is the sole supplier of WebbWood, used in our own manufacturing and available for purchase on WebbWood.com
Trident Global Sourcing
Whether you are looking for tooling, components, products, assemblies, etc.. our resources are practically limitless.


2085 Leicester Road
Leicester, NY 14484